Run For Fun Event 2023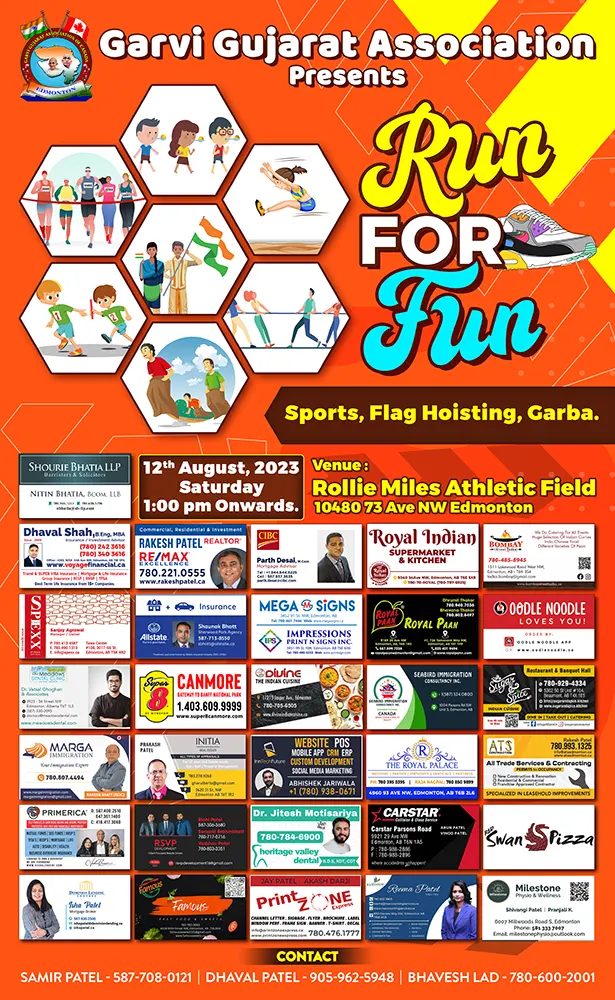 Venue: Rollie Miles Athletic Field 10480 73 Ave NW Edmonton
Participants' Admission Time: 12:00 PM
Event Time: 1:00 PM onwards
Date: Saturday 12th August 2023
Eligibility: Open to all GGAC and non GGAC members.
Ticket Price
$2/person
FORM FOR INDIVIDUALS
Form submission is closed now.
FORM FOR GROUPS
Form submission is closed now.
GGAC Track and Field Eligibility
Age Division – Age 6-18 years in the sole criteria for determining the age competition.
Age Group – The following age groups shall be used for all competitions; each age group from 6 years to 18 years individual, Age group 19-25, 26-35, 36-50, 51-65, 65+.
Gender Divisions – Boys(Male) and Girls(Female) will compete in separate divisions.
Eligibilty Rules
Each participant will only be allowed to participate in three individual sports plus a relay (Group). If any participant wants part in more than three sports mention other sports interested in comment box.
In order to compete in the event, each and every individual participant must submit a registration form. A separate registration form is required for all relay/group teams.
Uniform and Equipment
All participants should wear some type of gym clothing. Shoes must be worn.
No spikes, cleats or shoed with removable cleats, (even if worn without cleats) are not allowed.
All equipment will be provided, including relay batons.
Awards
Medals will be awarded to 1st, 2nd and 3rd places.
Rewards
Each Participant will be reward by providing of one bottle of Gatorade.
Athletic Park Rules
No sunflower seeds, gum or food allowed on track, in the score keeping booth or locker rooms.
Please help keep the site clean by placing trash in available receptacles.
No Smoking, Vaping, Chewing tobacco allowed on the field, inside fenced area or in the sands.
Pet are not permitted within fenced track & field area or Bleachers at any time.